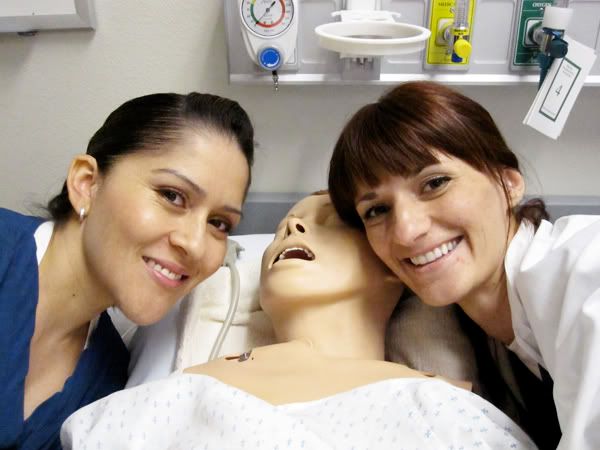 Marta, Vital Anne, and I in the freezing cold Sim-Lab. 9.10
I often get asked what I'm going to do with myself after graduation.
First of all, the question just blows me away every time. It's so surreal. I can't believe that it's almost over - another major accomplishment in my life.
The plan is to work.
For one year I'm going to work my butt off.
Where though?
The truth is that I think I'd like to do anything - even nursing jobs are hard to come by in the job market. When we studied Peds I thought,
Oh I could totally do this.
OB was the same thing. Critical Care, the same again.
I always go back to Emergency Medicine though - where I really think I want to be.
After we take our final (in 3ish weeks) we then do 96 hours of clinical work with a preceptor nurse. We get to choose - to a certain extent - in what discipline we want to do this work. So I chose what I thought I wanted. At three different hospitals I chose to do my preceptorship in the ED. It's a lottery and there is no guarantee that you will be chosen for where you want to go. It's pure chance (or so they tell us :).
And guess what?
I didn't get it.
After 3 rounds of name submissions there was nothing.
So when my instructor finally said she had something for me I felt relieved, but I was still a little bummed. I kinda hated hearing about all the other awesome experiences others were chosen for. Not only was I going to Med - Surg at a Hospital we have never set foot in, but it was nights and typically you don't get as great of experiences on nights.
The other day I looked on the website to see if I had received the name for my precepting nurse.
Something was odd though.
It said Days.
It said a different hospital.
and
It said ED.
score
.