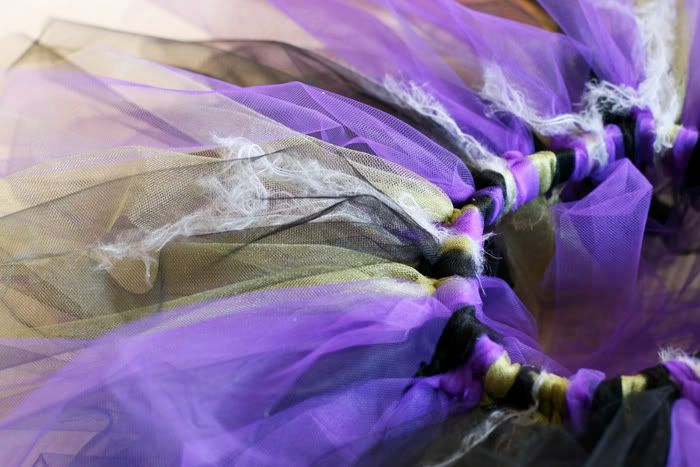 This morning the girls and I sat around cutting and knotting tulle for Blondes' Halloween costume and listening to my
Hay's Hypno
playlist on the iPod. It includes artists like Moby, Imogean Heap, Cat Stevens, Nick Drake, Pedro the Lion, Yo La Tengo, and Pinback.
Nothing better then mindlessly keeping my fingers busy while chatting with my girls and listening to good music.
I have a strict policy on Halloween that involves only allowing the children to be something that is appropriately scary and mostly homemade. My girls agree to this as long as there is a little bit of sparkles, makeup, or the color pink involved.
Blondes has chosen to be a witch and Mae wants to be a "pink monster" - of which plans are still in the sorts. I'm looking for pink fur -
Joann's?
Roo will sport Mae's old
mummy
costume.
I often get asked how I have the time to do things like this while in nursing school and I've honestly never known what to tell people. I make up dumb excuses like, "Well my house is a disaster!"
Which it often really is.

I think I've figured it out though.
Taking time out to paint, cook, craft, sew, garden, take pictures, (and blog) are essential to my well being - I think it's how I cope. And when I don't make time for it I tend to feel bottled up - and out pops a fat cold sore - just like that!
Plus, I believe that creating is part of the bigger picture. What good are we doing if we are not making this place a little more beautiful?
"The desire to create is one of the deepest yearnings of the human soul. No matter our talents, education, backgrounds, or abilities, we each have an inherent wish to create something that did not exist before.
Everyone can create. You don't need money, position, or influence in order to create something of substance or beauty.
Creation brings deep satisfaction and fulfillment. We develop ourselves and others when we take unorganized matter into our hands and mold it into something of beauty...."
-
Dieter F. Uchtdorf
update: i guess my cold sores did me a little good since i did well on my test monday night. woohoo! :)