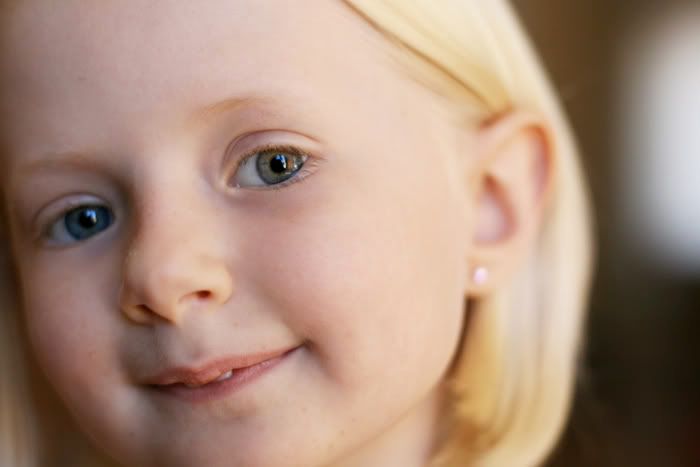 Last week I picked up my girls from my friend Christen's house after a long day of volunteer training. Blondes was wearing one clip-on earring in her ear flitting around that house. It made me wonder and I asked her if she wanted to get her ears pierced. After many previous "no's" on past occasions she looked at me and said, "yes."
I was shocked. Really? Did she remember that this involved pain? I explained to her that it would hurt and would feel just like getting a shot in her ear. She thought about it for a minute and later told me that she still wanted it.
My mother made me wait until I was eight to get mine done. I think because it just seemed like an appropriate age to her. I'm not sure entirely why, but I have just assumed that this rite-of-passage would be appropriate for my girls when they felt ready for it.
I made Blondes watch a couple of videos online and also made her sit on the idea for a day - it was a long day. After being the longest day ever of her waiting and waiting and waiting her dad finally came home and off we went.
She chose pink cubic zirconium studs.
She got the both done at once.
She told them she was ready.
She held my hands.
They counted.
1.
2.
Bam!!
She didn't even flinch or cry.
She got a purple sucker.
And off we went feeling a little more fancy than before.