i've been getting to know
my little buddy
for the last year and i have learned that you can cook almost anything on a grill.
yeah anything.
i love it. and so does my family
(see that love in her eyes? it's all for the grill baby!)
currently my faves are corn on the cob, roasted sweet peppers,
chipotle burgers
, and pizza.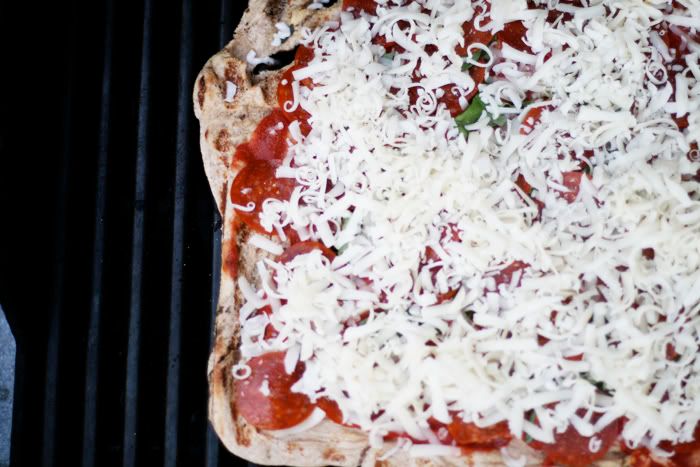 sweet wonderful pizza!
pizza is awesome because you can throw as little or as many things on it and it will always taste wonderful.
what i really love is that i have some great herbs growing just a few steps away that get tossed on with it. mmmm.
Hearty Pizza Dough
1 c. warm water
1 pkg. dry yeast
1 tsp. sugar
1 tsp. salt
2 tbsp. olive oil
2 1/2 - 3 c. flour
(half whole wheat half all purpose)
Mix one cup of flour with water, yeast, sugar, salt, and olive oil with bread hook scraping sides of bowl until it's all combined. Slowly mix in the rest of the flour watching the dough. You will know it's ready when the dough leaves the sides of the bowl and climbs up the hook. Oil your hands a little and slide the dough off. Cover it and let it rest in the bowl for about 20 minutes.
Meanwhile prepare your toppings.
When the dough is ready slap it down on a floured surface and roll it out. Sprinkle a cutting board with cornmeal and flour and carefully transfer the rolled out dough to it. Let this rise again for about 20 min.
Heat up your grill on medium and when you are ready slide the pizza onto it. Keep an eye on it now because this can go quick. When the underside is nice and brown give it a flip (I have yet to master this. I use two spatula's and it has on occasion landed on my feet.)


Go ahead and top it with tomato sauce, fresh herbs, garlic powder, s&p, veggies and/or meats and generous amounts of mozzarella.

When the cheese is melted you. are. done!