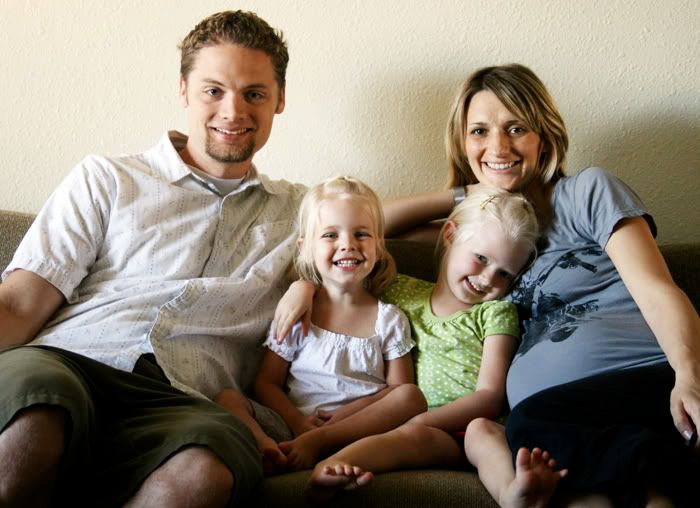 Friday morning I awoke to more contractions coming even more frequently than the day before. They had been keeping me up all night. I had been into and out of the bath, into and out of bed, on the couch and about every other chair in the house. 10 minutes apart. Getting more and more intense.
We dropped the girls off a little after 9:30 am and Easy drove around to garage sales while I labored in the car. I was waiting for them to get closer, but they didn't - 5 minutes when I was up and 10 when I was down. I was getting frustrated. Mae came so quick and I thought this would be even quicker. I called my doc's office. They were not helpful. We went to the store and walked around - bought some beverages and some cookies. I called my mom who listened to my concerns and advised me to go to the hospital.
I thought it was too early. 11:30 am.
They hooked me to the monitor and we watched and felt each contraction go by. Still not getting any closer. I was worried. Something had to be wrong. Baby too big? Cord around neck? I didn't understand why it wasn't getting any harder! I was only at 3cm. After contracting
all night
! We got up and walked for about an hour. E and I paced the hall hand in hand. We talked about our little Three. We counted the tiles in the floor. We laughed. He kept trying to get me to go faster. I would bury my face in his arm when it got tough. I think at one point he even requested that I do lunges.
When we got back they officially admitted me. 2:30pm. I was at 4cm. We discussed starting pitocin to get things moving along. My doc was on the way to also break my water. Both options I was unsure of. Scared of pitocin induced contractions and scared that breaking my water would send me over the edge too quick. I considered both and in my head thought about an epidural. I honestly didn't feel emotionally strong enough to birth the baby on our own, but E was right by my side - taking my criticism on his back rubbing technique, wetting my head and legs down, encouraging me, loving me. He gave me strength since I didn't have enough on my own. That is what is so beautiful about marriage - about having a companion. They pick up your pieces when you have fallen apart. He was the only thing that could have done it. He kept me afloat when I felt like I was about to drown in my self induced doubt.
3:45 pm. I get my IV and we decide on breaking my water. Just 4cm. She made a small hole in the sac and after about 20 more minutes of inconsistent contractions E gave me a blessing and I got into the shower. The nurses barely knew how to work it. The removable shower head was irremovable and the one that worked was blasting
hot
water everywhere. I leaned my arms and head against the cold tile wall. I stood and prayed that the baby would come soon. That she/he would be fine, but mostly that
I
would be fine. I was up and down. It was getting intense. I leaned and called for Eric. I was a mess - a hot laboring mess. I swayed my hips, breathed deeply, and finally knew it was time when I just couldn't take it anymore.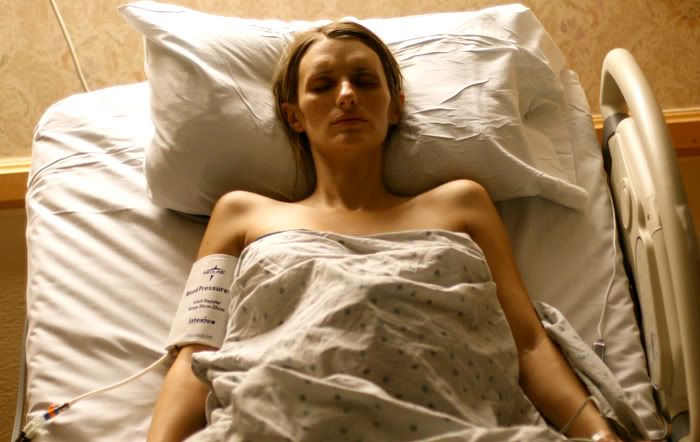 corpse-like hays in the middle of labor land
When I got out it was about 4:30pm. I felt a little urge to push. Eric dried me off and I knew I had to get back in the bed. He wrung cold water over my legs, chest, and head as I breathed. In through my nose. Out my mouth. The tide comes up and I push it back down. There was no stopping these contractions. They were the real thing. In and out. We called the nurse and I asked her to check me. She first hooked me back up to the million gadgets to monitor my contractions, baby's heart rate, my BP, and my oxygen sats. 4:45pm. By the look on her face I knew I had progressed in that hot and miserable shower. When she said I was a 9 I thought I had heard her wrong. I looked at my husband and was assured that she in fact had said "9."
She jumped up to call the doc and came back minutes later with everything they would need. I reminded her that E wanted to help receive the baby so she went out to get him a gown. As soon as the door shut the baby decended. I knew my doctor wouldn't make it. I looked up at Eric and mustered out
"baby's coming!"
along with a few moans that were followed by some insane burning.
The poor guy was juggling 2 camera's trying to push the call light and about to chase after the nurse down the hall when he looked and sure enough the baby was crowning. He shouted "Baby's coming!" as the nurse barreled back into the room. By the time she reached my bedside the baby's head was out. She dropped E's supplies and was frantically getting on her gloves, when she looked me in the face and told me that I needed to deliver my baby
now
. I took the biggest breath I could manage and pushed slowly and steadily. It was all me now. Just me and my baby. We were controlling this thing and the next second I knew, everything released and the baby was out on the bed.
A girl.
A perfect little girl. Her cord was only about 8 inches so I scooped her up as high onto my belly as I could. The baby's nurse
(who I think was hiding in the corner)
handed a blanket to me and E and I began rubbing our new little girl as my nurse suctioned the baby's mouth out and clamped and cut the cord. Seeing her little red body and hearing her cry was music to my ears. It was then that I knew we were in the clear. It was then that I took all of her in - my baby girl!
About 3 minutes later my doc walked in. And about 10 minutes later my bestie, Alisha. They barely missed it.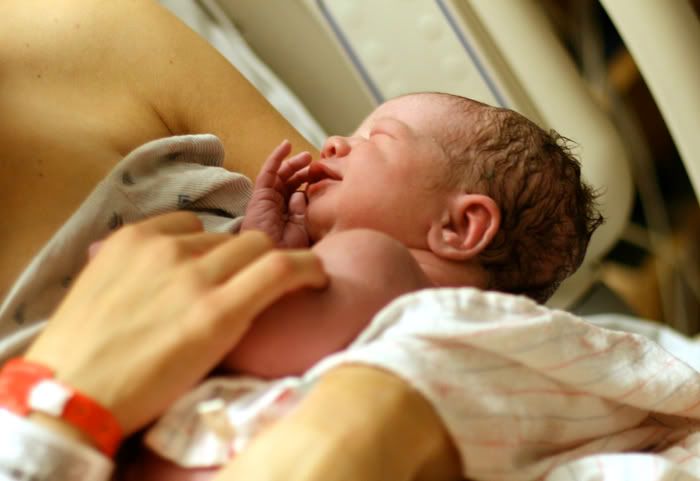 But we killed it. Literally
we
. Me and Eric - and baby Gigi.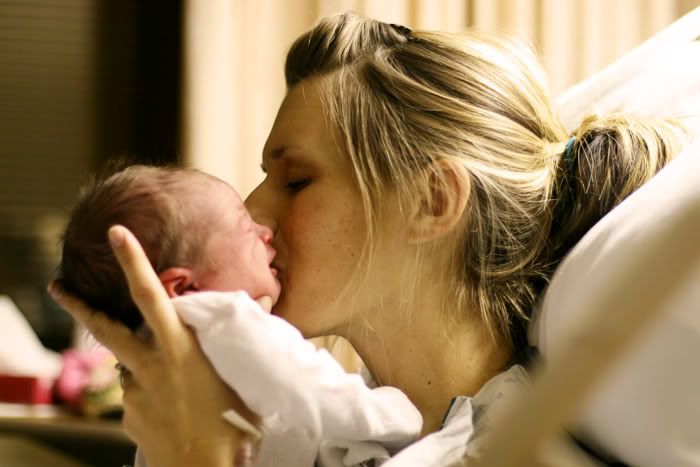 She's getting a lot of love - which is good because we have a lot to give.