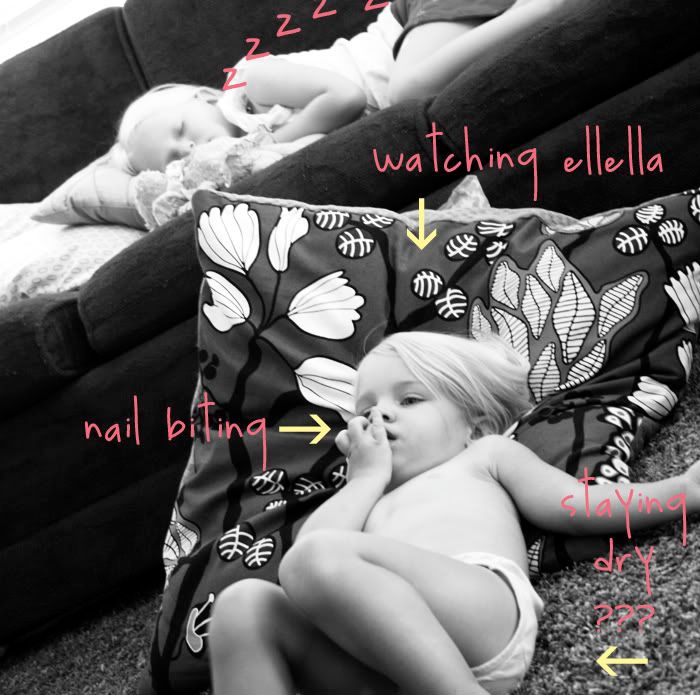 i can't tell you how many times a week i call my mother about GM.
this week it's about potty-training her.
i feel like a brand new mom - like i've never done this before
, i tell her.
and she so motherly laughs and tells me
that i just need to be a different kind of mom.
so i guess that is the real challenge.
with every kid are we required to be a
different kind
of mom?
currently i'm dealing with Miss Mae's:
incessant nail biting - and toe nail biting might i add. when she is idle or unsure of her surroundings those little fingers make their way into the mouth and chomp. chomp. chomp. there go the finger nails - and the toe nails.
she is also crafty about the potty. if i leave her naked all day she proudly goes potty all on her own. yes - numbers 1 and 2, but the second i put panties on her she wets them. we all know that i just can't send her over to the shangri-la ranch nudist colony
(i'll let you google that one on your own)
, but i also can't allow her to go breezing to play dates in the buff. my mother agrees with a slight
spank
pat on the bum - which i'm all about until i see tears well up in those baby blue eyes and i turn to mush.
she also enjoys all the other glamorous personality traits of a 2 tear old like spitting, hitting, and yelling
NO.
if my mom is right then that means i do need to learn to be a different kind of mother. the mother of a little punk - one that has me wrapped around her little finger's at that.