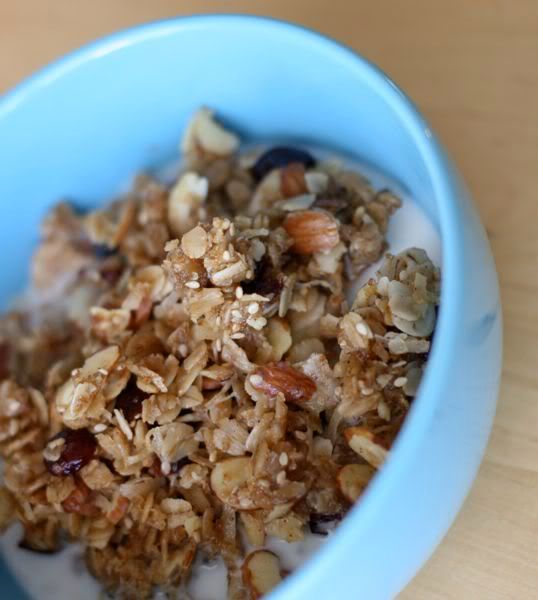 I have been feeling a little dead and achy. My pre-pregnancy muscles have atrophied and my joints have stiffened. I can't take it anymore. I feel out of breath and exhausted at the end of the day.
To remedy all this I have committed myself to walking in the mornings and eating better (mainly breakfast). well, you all remember how I feel about
mornings
, but I may have changed my mind after today:
Last night we hit the sack at 9pm and I woke at 6am. I forced myself out of bed wanting to cuddle up to E a little more, but knowing that if I didn't get up I'd regret it. I put on my running shoes and took off. I walked for a half hour. It was unbelievably cool out. I came home feeling refreshed and energized. I fed my chickies and took to conquering the bushes in our backyard that have turned into living, breathing, green monsters during the past few months of summer neglect. I came away with a few scratches, but ultimately I rocked them. I kissed Easy goodbye and MaeMae and I enjoyed some homemade granola before the girls and I did a little Yoga together.
I feel good. 6am was totally worth it. Encouragement is welcomed.
Granola:
Mix together in large bowl:
10 c old fashioned rolled oats
1/2 c sesame seeds

1/2 c wheat germ

1/2 lb shredded coconut
2 c raw sunflower seeds

2-3 c chopped nuts (almonds, pecans, walnuts, whatever)
2 c dried fruit (craisins are best)


Heat in saucepan until dissolved:
1.5 c brown sugar

1.5 c water

1.5 c canola oil
1 c honey

1.5 tsp salt
2 tsp cinnamon

1 T vanilla
Pour over dry ingredients and stir. Divide in half and spread each half on a cookie sheet. Bake at 300 degrees for 30-40 minutes, stirring half way through. Cool. Store in airtight canister.