I guess school's out only out until Saturday, which is the day I start
12 hour
clinicals at the hospital. I'm not so stoked about 12 hours, but
love
that I don't have to go back to the long term care facility.
I feel like I'm losing my mind a little lately. Wait. I actually think I lost it long ago. You know, back when I got pregnant during my first block of nursing school. That is for sure when it happened.
I think I have broken 3 bowls, 2 cups, and a plate since then. My lost mind is moving faster then my body. And not to mention that I broke the glass to my blender. I'm smoothie-less and suffering. Luckily a new one is in the mail! Woot!
Speaking of Three. I forget about the poor babe often. I'm so busy that I feel like this pregnancy is flying by without me. Busy and forgetful. Clumsy. Tired. An expanding uterus. A little heartburn. Late-night nudges.
Okay, I'm totally aware of it.
I guess I'm just not soaking it all in like I want to. Like I loved doing with the first two.
School being out this week has been a blessing from heaven. The girls and I have spent the whole week in the water and have almost gone through 2 quarts of bubbles. With our suits on and without. MaeMae's been more or less nakie the whole week
(she thinks she is ready to potty-train and I'm...well...not so ready).

And they have worked out that whole sleeping schedule since we are so exhausted from the sun and water.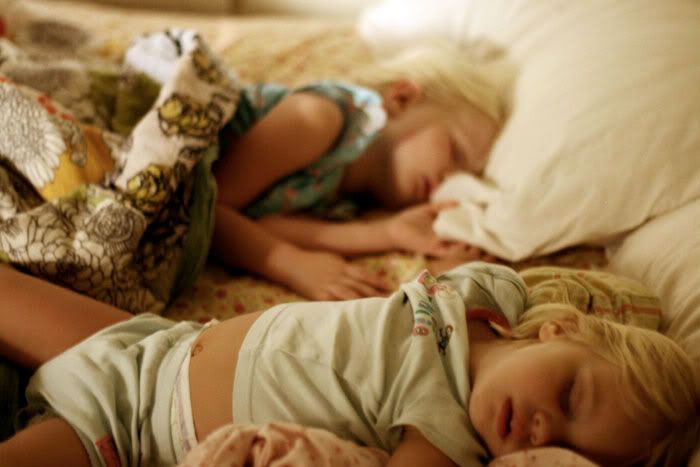 The girls have been sharing a room since our move. Last night Mae cried until I put her in bed with Blondie and then immediately crashed. She's growing up too fast. I miss my baby Bear, but loved witnessing their late night spooning. They are so lucky to have each other.
And I'm so lucky to spend the next two nights with my loves instead of in class.