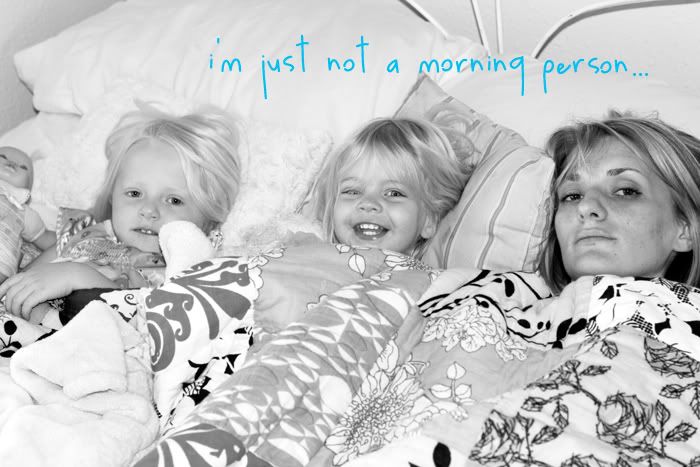 It was always the worst morning job for any of my 6 brothers...to help wake sleeping Hayley.
I still hear about it. On my wedding day I think Easy heard more than one time something similar to, "Good luck with her in the mornings" or "Oh honey, just don't try to get her up before 9."
I assumed it would change with maturity. That somehow I would magically wake up at 6am with a huge grin on my face, bounce down the hall in a pink fluffy robe, and make my 12 kids a bounteous breakfast only fit for a king.
I was wrong. I'm still at my very worst before 8am. I am a grump. I can't even lift my eyelids. I drag myself to the bathroom, sleep through Mae's diaper change, and haphazardly pour cereal and milk.
I think around 9am I actually speak my first coherent word.
So, lately the girls' schedule has been totally off. They are staying up late (10:30pm) and waking up as usual...early (6:30am). It's killing me. I need my nights back to enjoy with E.
Mornings will always be mornings. I think I will despise them forever, but I NEED my nights.