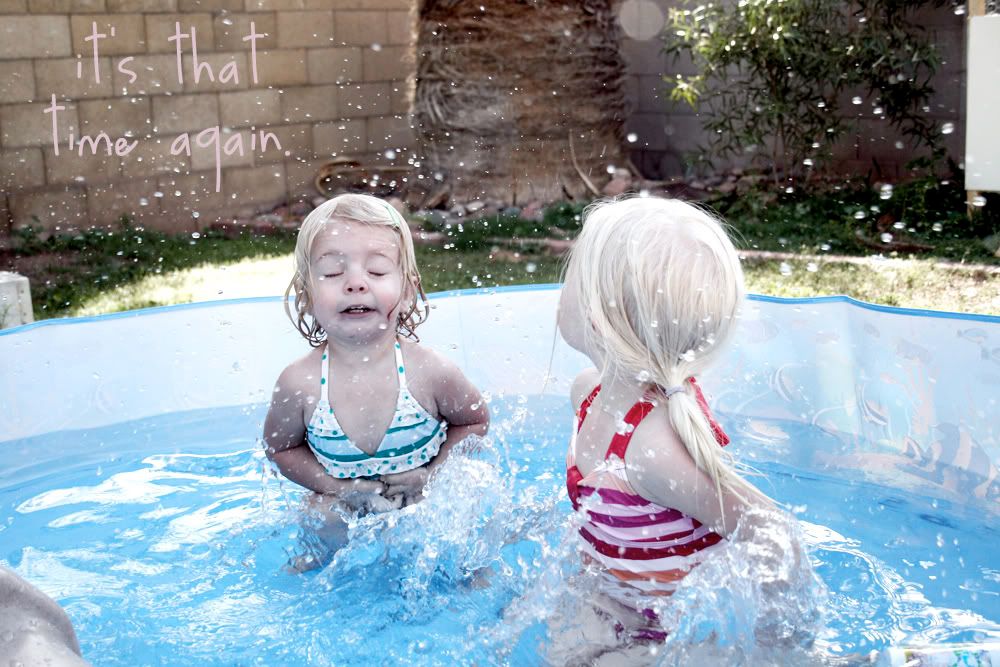 The heat. It's coming. I'm not ready.
It gets too sweaty, too sticky, and I don't like it one bit. Cars are ovens and as soon as you walk out the door it hits you in the face like a hair dryer on full blast. After dragging ourselves into the house there is nothing left to do but strip down and head for the pool or a cool shower. It's the only relief. Heaven to your sweat glands. But the sun is brutal with it's UV and UA and U-whatever rays.
Sunscreen is packed in every bag, in the house, in the car, in the stroller.
Popsicles melt right off the sticks and the radiant pavement burns the back of your legs.
When my mother came 2 years ago in July she worn a wet towel around her head the whole day. She thought she was melting. Menopause didn't help. Now she'll only come in the winter.

People say that your blood gets thinner. I don't believe it. Blood doesn't thin from heat exposure and they only claim that in the winter when it's 70 out. It's easy to state your love for the desert then. The summer is just too brutal for acclimation. Honestly. The other one I love is, "It's a dry heat." I'm telling you it doesn't matter one bit when the thermometer hits 114 in July what kind of heat it is. It's just freaking hot.

So, for the next few weeks we are taking complete advantage of the outdoors until it hits 100 and stays there. You can leave me a message - I'm good at checking them.