The Gardiner's had quite the weekend.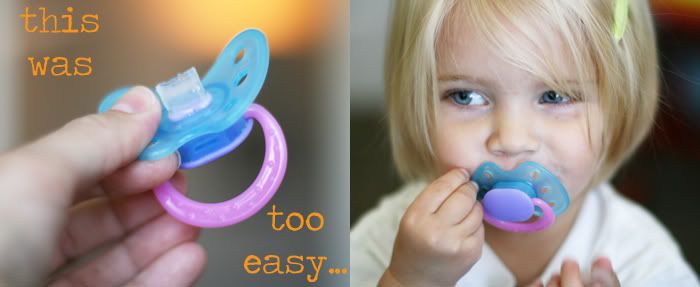 It started with last Thursday night when MaeMae bit the end off her binky while I was at class. Easy told her that since she broke it, it was gone
(good thing I wasn't home I would have found my sweet baby a new one).
Now, whenever she goes to bed she simply says "it broke" and dozes off with her bunny and cup. I don't think any tears have actually been shed over it. WaHoo!
Friday night Blondie burned her arm while helping me cook dinner. She (actually both the girls) have to be right there through all the preparations. She was flipping raw tortillas with the tongs on a plate and I had the
bright
idea to ask her to flip the one in the pan. She dropped the tongs and grabbed the tortilla with her bare hands resting her tender little wrist on the edge of the pan. I screamed - she screamed - I practiced a little wound care on her and she spent the rest of the evening cuddled in my lap whimpering until she dozed off.
I started my clinicals on Saturday morning at 6am. Our first two weeks are at a Long Term Care facility. To say the least it was an eye-opening experience. When you work at a place like this you realize how unfortunate it is that the people there don't have family to take care of them. A lot of them aren't getting all the care that they need. They are lonely. They are depressed. It is heartbreaking. We have to pass off certain skills each week. Saturday it was bathing, feeding, personal hygiene, and making beds. I was exhausted by the end of the day.
Of course, Sunday we watched conference all day. I particularly enjoyed Pres Uchtdorf's talk of the morning session. As seen
here.
We had a nice family walk, dinner with friends, and crashed for a great night's sleep
(other than being up to use the bathroom a few times - me).