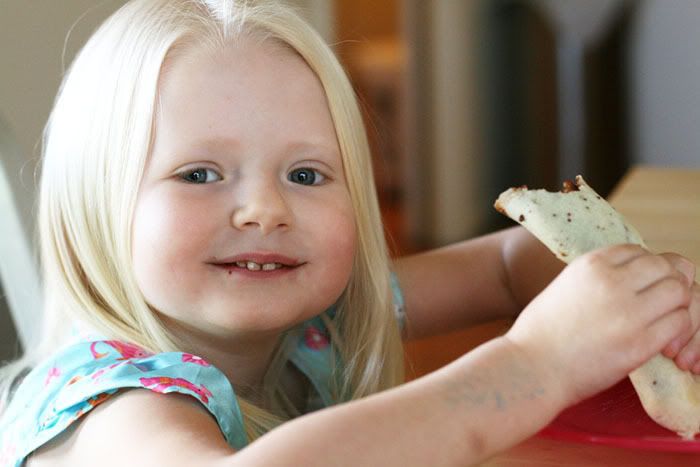 How to win kids (or me) over at breakfast:
Crepes
Batter:

1 1/2 cups all-purpose flour
1 tablespoon sugar
1/2 teaspoon baking powder
1/2 teaspoon salt
2 cups milk
2 tablespoons stick margarine or butter, melted
1/2 teaspoon vanilla

2 large eggs
1. Mix flour, sugar, baking powder and salt in medium bowl.
Stir in remaining ingredients.
Beat with hand beater until smooth.
2. Lightly butter 6- to 8-inch skillet.
Heat over medium heat until bubbly.
3. For each crepe, pour scant 1/4 cup batter into skillet.
Immediately rotate skillet until thin film covers bottom.
Cook until light brown.
Run wide spatula around edge to loosen; turn and cook other side until light brown.
4. Stack crepes, placing waxed paper between each; keep covered.
If desired, spread applesauce, sweetened strawberries, currant jelly or raspberry jam thinly over each warm crepe; roll up.
Sprinkle with powdered sugar if desired.