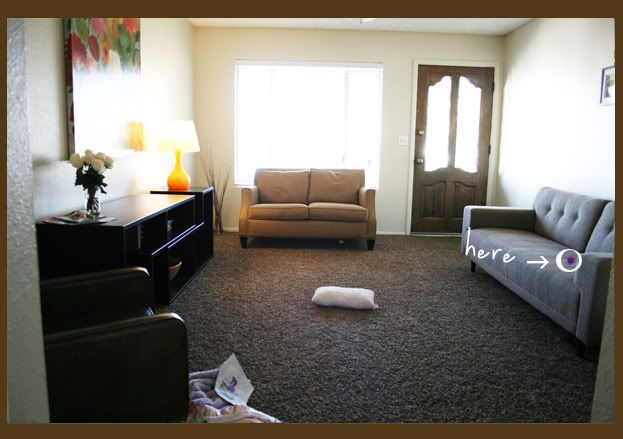 Things are coming together around here.
Or, they were until yesterday, when
(i'm sure you can guess which one)
little girl decided to plant herself on our new taupy-tanish-brown couch with a bottle of perfectly selected dark purple fingernail polish.
I assume that the sweet little thing proceeded to take off the lid and adorn herself in the trendy dark color. A splash on her new pants, a splosh on the belly, and I'm guessing that she felt pretty fancy with that dribble across her toes.
I'm sure she didn't place the bottle on it's side on purpose allowing the contents to pool on the couch. Why on earth would she do that? Why waste all this perfect purple polish on a stupid couch? I assume it was a complete accident - all in the name of primping.
Meanwhile I get a panicked,
"Mommy Mommy Mommy! Sissy's got something! On the couch! Hurry!"
I run. I toss baby aside. I grab acetone. I google.
After an urgent call to my mother and a reckless trip to Target I am found scrubbing and scrubbing. Sweating. Swearing. Scrubbing:
Rubbing alcohol. Acetone.
Rubbing alcohol. Acetone.
And it comes out.
Mostly
.
Now, what to do with my daughter?