Yay! I was hoping someone would request the recipe for my
Chunky Veggie Lasagna.
Thanks Megan.
So, here we go!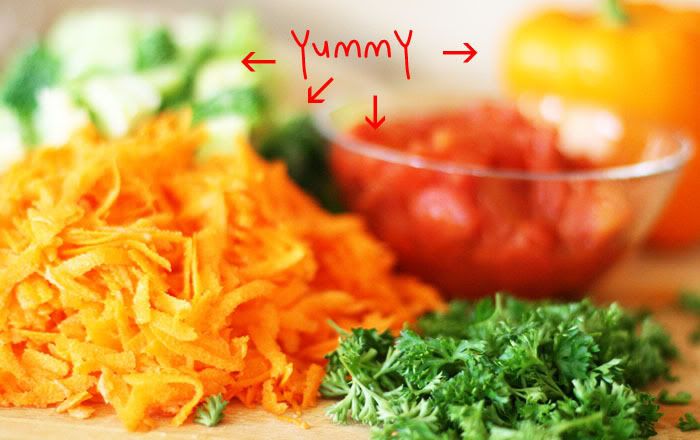 12 uncooked lasagna noodles
(go ahead and buy the no-boil kind to save a little time)
2 cups frozen broccoli flowerets, thawed
3 large carrots, shredded (2 cups)
1 can diced tomatoes, drained
1 med red bell pepper, cut into thin strips
1 med green bell pepper, also cut
3/4 cup pesto (homemade if you are a rock-star, which I wasn't last week)
1/4 tsp salt
1 container ricotta cheese
1/2 c grated parmesan
1/4 c fresh chopped parsley
1 large egg
3 tablespoons butter
1 clove garlic
3 tbs flour
2 c milk
3 c shredded mozerella (I never said this was healthy)
1. mix broc, carrots, tomatoes, bell peppers, pesto and salt.
2. in separate bowl mix ricotta, parmesan, parsley, and egg
3. melt butter in 2qt saucepan over medium. cook garlic in butter until golden (4 min). stir in flour. stir constantly over med heat until mixture is smooth and bubbly; remove from heat. stir in milk. heat to boiling, stir constantly. boil and stir one minute.
4. heat oven to 350
5. place 3 noodles in ungreased rectangular pan. spread half cheese mixture over noodles. top with noodles and spread with veggies. sprinkle with one cup mozzarella. top with 3 noodles; spread with remaining cheese mixture. top with 3 noodles and spread with veggies. pour sauce evenly over top and sprinkle with remaining cheese

6. bake uncovered 35 to 40 minutes or until golden. let stand 10 min before cutting.
7. kiss your helpers