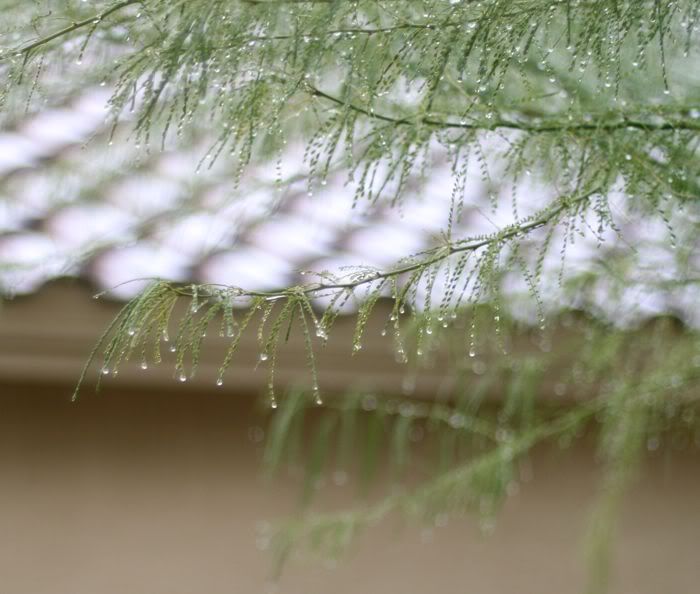 There is nothing quite like the rain in Arizona, perhaps it's because the anticipation of it is so great and the whole desert rejoices as the saguaro's fatten up on the fresh water sent from the skies. Only a few inches will fill the washes and send big brown rivers flowing through the desert floor. All that was dull, brown, and lifeless for months suddenly perk up with a new found energy. This includes all us desert dwellers. We love the rain. It wakes us up.
My daughter's scream and giggle as we hood our heads and scurry into the Walmart. Blondie squeals, "Mommy, the rain tickles my face!" I laugh as I love her innocence and simple delight in it. Lucky for us, the next few days and we will have plenty of face-tickling rain.
I have been hoping that we will have snow in Nevada for Christmas. My mother told me yesterday that they were forecasting 6". I hurried to tell little Blondie. Her eyes grew big and lit up with pure joy,
"Can we go now?"
Oh, how I would love to indulge her and jump in the car in search of snow! But, I reminded her that we have to wait a few days.
I have loads of laundry to do, a few more days of mental preparation, and I really really want to enjoy this rain. It means we get to stay in our jammies most the day, watch princess movies, bake cookies, and drink chocolate milk.
I want to soak up all the days like this I can before
school
starts.
Here is a nice rainy day song for ya.