There are a few select things that I look forward to every day, like Easy E coming in the door around 6pm and giving each girl in the home a kiss. I'm pretty lucky and get mine on the lips and first. He kisses Blondie on the forehead and dodges around Sissy's dirt and grime until there is a clean spot to smack. This has to be my favorite time. It's far above all the rest in my book.
Other favorites include the post nap snuggles with each of the girls where they are so incredibly docile, warm, and sweet smelling, listening to Blondie play with her Polly Pocket's to herself during quite time, and the pre-bedtime tickling, wrestling, chasing, and giggling sessions.
I admit I have another favorite time of the day. It happens just after noon or shortly before, when I hear a huge truck pull up outside and the familiar chime of the doorbell.
Yes!
A package from the man in the brown suit. This time of year it means I'm finally getting the gifts that I have bought for my loves or gifts others have sent to us.
Or, it means Cereal. Yep, cereal. Loads of it.
A little perk from Easy's
work:
Sales Samples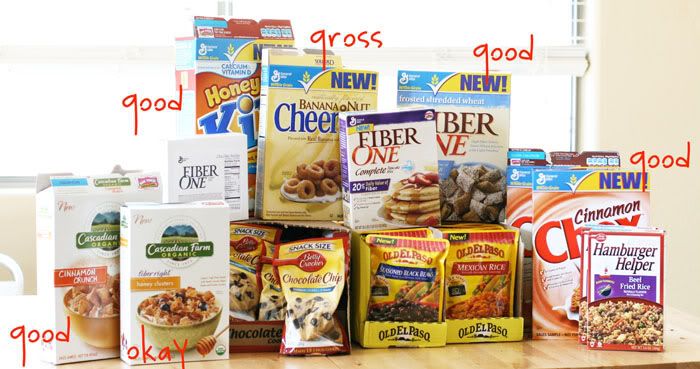 All these lovelies will be on shelves mid January. I've sampled most of them for you and made evaluations so you don't have to worry about it.
Apparently they are going to be selling beans in pouches, which I haven't tried. I also haven't tried the rice's and probably won't - not really my thing.
The pancakes are okay, I'd rather make mine from scratch, but we love the Honey Kix and the Fiber One Frosted Shredded Wheat.
And we still love this video. I've posted it before, but hey, it's Friday and I can't resist doing it again.
Special thanks to Marcus Monroe for representing.


"Yeah, keep putting out that CTC."