Here she is!
the perfect hand-me-down
So cute, right? I loved this car to pieces.
Literally, when I was done with her she was almost in pieces.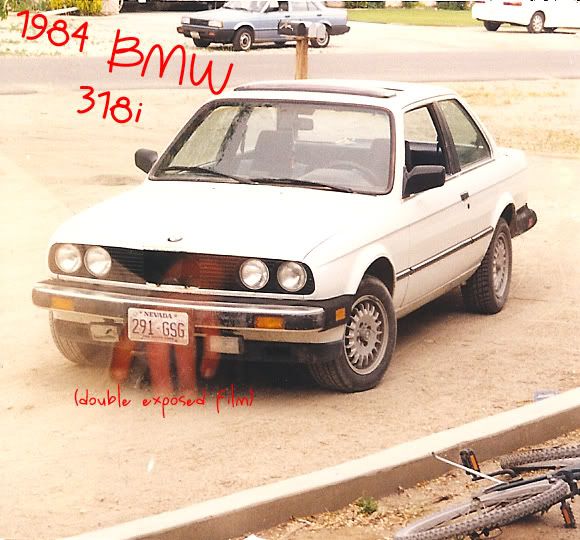 My junior year of HS Alisha and I decided to ditch school in the BMW to go to the lake with friends. On the way out of town we rear ended a flat bed truck. Of course, the truck wasn't hurt. My little car was leaking fluid all over the road and suffered a smashed hood and right front fender. Poor thing. Aly and I were fine and only worried about getting into trouble about ditching if the flatbed owner called the cops. We convinced him not to and drove the car back to Alisha's house. I think we still went to the lake.
After that incident my car was white with a black hood and black front fender from the pick-and-pull. I didn't care. I still loved her. The sunroof crank was busted. The passenger window had to be rolled down with vise-grips. The driver seat was crooked and hurt my back. She was gutless. Even though, the AC and heater were broke and I'd have to pull over whenever she was overheating to put water in her OR turn on the hot air vent in the middle of summer to cool her down, I still was in love. Yes, even on the drive to early morning seminary in January huddled in a denim quilt, she was mine...
...and you could bet on any given day that this would be playing from the 10 disc changer: