Phew. We have been so busy lately. I'm glad to have things slow down a little and really enjoy just being a mom. That's all. Just a mom.
Sure, there are times when wonder what life would be like if I had chose to pursue a career, put off marriage, travel the world, but to be completely honest - I don't know that doing those things would have made me
this
happy. So I am sitting here with laundry to put away, dishes to stack, and desperately needing a shower, but I'm perfectly content with that.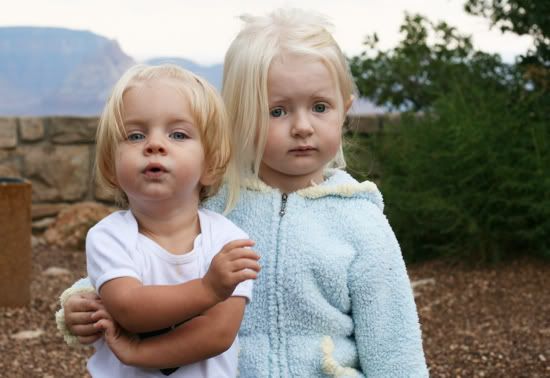 My Blondie - So sweet and considerate. Promptly saying please and thank you. My favorite is when she tells me "welcome." I think that she is more polite than I am at times. It makes me feel like we have taught her well. Usually before she goes to sleep at night, I crawl into her bed and we talk. I love this time that we share together. We talk about the day and our adventures that we have had. I ask her what we should do the next day and she (without fail) replies, "I just want to play with you Mama." When she was born my father-in-law explained to me that I will be her best friend. He would say, "She's off to find her best friend." Then she would crawl over to me with a huge grin on her face. I am so grateful for her unconditional love and am so flattered that she wants nothing more than to play with me. She is always finding something unusual to play with and manipulate. She has done this since she was tiny. A string, ribbon, tape, straw, a box, a wipe, or her fingers, will entertain her, (without fail) for upwards to an hour at a time. It makes me think she'll be some sort of a scientist.
MaeMae - My Little Bear. She is quite the firecracker. Hot and cold. One minute she is wide-mouthed kissing me and the next she is pushing me away. She won't take no for an answer and leaves me feeling incredibly guilty and wanting to give her the world. I love her loud calls from her crib and how she jumps up and down when I am seen in the doorway after her nap. She lays her head on my shoulder just long enough to say "thanks mom" then she is wanting down and is off, unsteadily speed-walking down the hall until I catch her for the diaper change, which she fights with every ounce of strength that she possesses. When Eric comes home she beams. Her little body cannot contain her smiles and she fights her legs to go faster to reach him. When she wants her "Mama" she rushes over to me and plants herself at my feet. She grabs both my legs, gazes up with desperation, and grunts and growls until I give into her. She is so relieved when I pick her up for a quick kiss or to share my ice-water with her. She smacks her lips and wiggles her legs for more. I feel like this little baby has grown so fast. She is walking, expressing her desires, and loves to carry things around her neck and over her shoulder. She is always up to something, or into something she shouldn't be; pulling toilet paper off the roll, playing in the toilet, or ripping off her diaper. Oh, but sometimes at night she will lay in my arms and let me snuggle and kiss her sweet forehead. She looks huge there - as I stare down at her legs dangling off the edge of the chair. I want nothing more in these moments but to smell her sweet skin and hold her tight forever.