I grew up in the country. You know with cows, pigs, chickens, horses, but no goats. Goats are gross. We ate a lot of meat and a lot of potatoes.

I still don't know a woman that can cook as good as my mother. Her steaks are perfect and her roasts divine. That's where I got it from - my love of cooking. From my mother. I didn't even know that I loved it though, until I was married and broke out my very first cook book.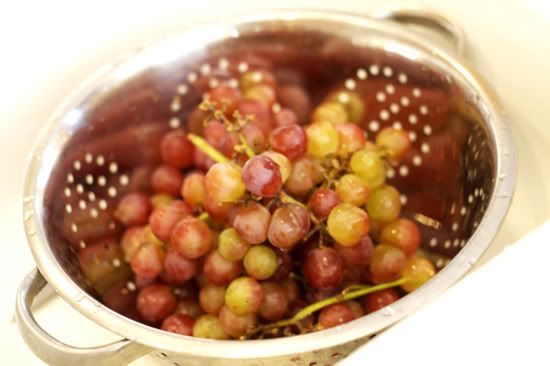 It was different when I really started cooking though, because I married a boy from California who's father is a strict vegetarian -- the result of losing his wife to cancer. How can you make a meal without meat? I had no clue. But somehow, for the first few years of our marriage we managed to eat very little meat (mostly because we were dirt poor, but also because we wanted clean arteries).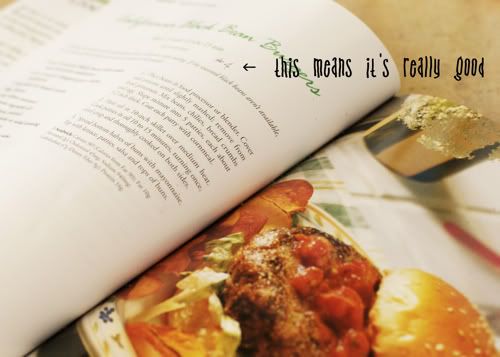 I was clever in my cooking and now we have many vegetarian recipes that I can dazzle my father-in-law with -- when he comes to stay with us.

This is one of his favorites and mine too:
California
(how appropriate)
Black Bean Burgers
These are SO easy!
1 15oz can black bean with cumin spices
(i just add some chili powder)
1 4oz can chopped green chilies
1 cup plain dry bread crumbs
1 egg, beaten
1/4 c yellow cornmeal
Then: Buns, Mayo, Lettuce, Salsa
Slightly mash undrained beans in food processor (or use elbow grease). Remove and and mix with chilies, bread crumbs, and egg in bowl. Shape into patties, sprinkle cornmeal on them and heat in olive oiled skillet over medium heat for 10-15min. Turning once until crisp.
Look down at sad baby that wants to be held:
Convince toddler that the beans are chocolate: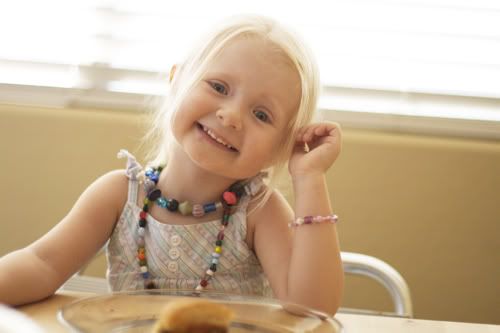 Enjoy: